Shibata City, the homeland of Kikusui, is also home to one of the most famous hot springs in Niigata Prefecture called Tsukioka Onsen. True to its name, it is a wonderful hot spring resort that invites a feeling of autumnal travel.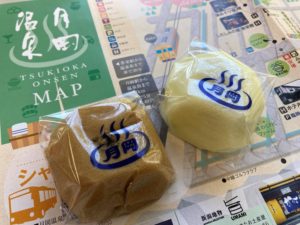 It boasts one of the highest sulfur content in Japan, and the water is mildly alkaline and gentle on the skin. The sulfur spring water, which is rare and beautiful emerald green, can turn precious metals black. It is said to be effective in treating dermatitis and adult diseases, and above all, it is known as "the hot spring that makes you more beautiful" because it is thought to be effective in beautifying the skin. It is located about a 15-minute drive away from Kikusui's head office, and you can smell the unique scent of the sulfur spring even when you are in the car.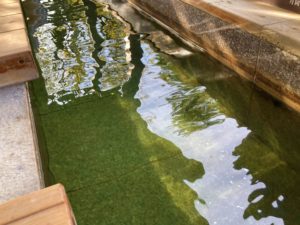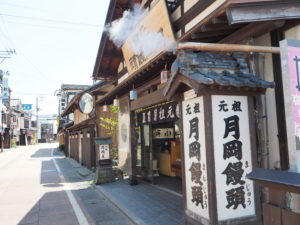 There are also many different inns. The wide selection includes large inns with a variety of facilities, traditional hot-spring cure inns, and private inns that feel like hideaways. If you walk around the hot spring resort area, you will find footbaths where you can casually enjoy Tsukioka's hot spring water, shops where you can enjoy Niigata's local sake, other local delicacies, and of course, local onsen manju! There are also many souvenir shops.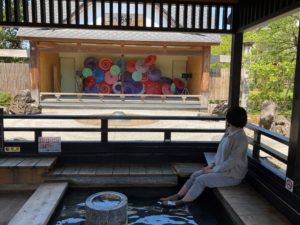 In the long cool autumn nights, you can stroll around the hot spring town under the moonlight, take a bath while gazing at the moon ― and don't forget to drink some delicious local sake after your bath. Will you have cold sake after warming up or warmed sake to match the cool autumn weather?
Tsukioka Onsen Tourism Association: http://www.tsukiokaonsen.gr.jp/
https://www.kikusui-sake.com/book/vol5/#target/page_no=7